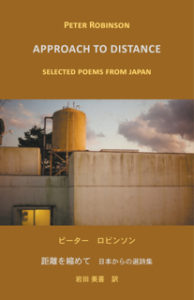 Peter Robinson (1953– ) is among Britain's internationally recognized contemporary poets. He has also had a long and deep relationship with Japan, the country where he would spend eighteen years teaching English literature in Sendai and Kyoto. Approach to Distance: Selected Poems from Japan presents a bilingual gathering of the poems he wrote during his residence in the country, a key period in his creative life. Miki Iwata's introduction sets the choice of poems in context, and her translations bring over into Japanese the emotional intelligence, trans-cultural understanding, and wit-inflected feeling that characterize this poet's widely appreciated work.
'It's as if he carries a listening device, alert for the moments when the tectonic plates of mental experience slide quietly one beneath another to create paradoxes and complexities that call for poems to be made' – Roy Fisher
'… a major English poet' – Poetry Review
ピーター・ロビンソン(一九五三―)は、国際的に知られたイギリスの現代詩人の一人。仙台と京都で18年にわたって英文学を教え、日本と長く深い関わりを育んだ。『距離を縮めて  日本からの選詩集』は、彼の創作にとって重要な時期である日本の時代に詠まれた詩を二か国語版で編んだものである。岩田美喜の前書きが収録された詩の文脈を示すと同時に、翻訳は、ロビンソンの代表作の特徴として知られた、知的感性、異文化理解、そして機知混じりの情動を日本語に伝えてくれる。
「彼はまるで、人の心が何かを経験した時に、精神のプレートが静かに沈み込み、重なり合い、詩を作ってくれと呼びかけてくるパラドックスや複雑さを形成する、そんな動きに敏感な探知機を持っているかのようだ」――ロイ・フィッシャー
「…イングランドの主要な詩人」――『ポエトリー・レヴュー』
Click here to read a sample of Approach to Distance.
Click here to buy from Amazon in Japan; click here to buy from Amazon in the UK; click here to buy from Amazon in the US.