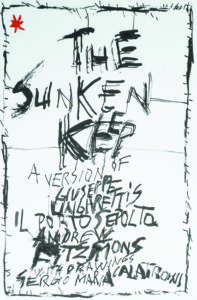 Il Porto Sepolto was the most significant debut in twentieth-century Italian poetry. Written in the trenches of northern Italy while Giuseppe Ungaretti was serving as a private in the Italian army, the poems were scribbled on whatever scrap of paper was close to hand, then stuffed away in his backpack. A fortunate encounter with a literary-minded officer led to the publication in Udine in 1916 of a book that changed Italian poetry. This is the only complete translation into English of that first edition; the poems of a 'man present at his own / fragility' that spoke to their moment, and continue to speak one hundred years later.
'The Sunken Keep, in the hands of Andrew Fitzsimons, approaches the poetry of the inexpressible which Giuseppe Ungaretti sought. In these austere versions, matched by the dramatic artwork of Sergio Maria Calatroni, the reader is taken along the edge of an abyss: at turns a sea coast, a frontline trench in WW1, an uninhabited universe. Once read and absorbed Ungaretti's translucent poems will remain forever. – Gerald Dawe, Trinity College Dublin
Translated by Andrew Fitzsimons, and with sixteen colour illustrations by Sergio Maria Calatroni.
September 2017, 78 pages, 5.5 x 8.5 in / 216 x 140 mm, ISBN 978-4-907359-22-5