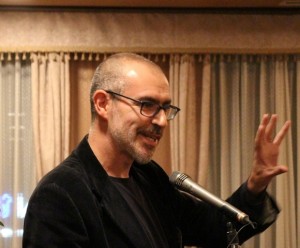 Andrew Fitzsimons was born in Ireland, and is a Professor at Gakushuin University, Tokyo. As well as essays on Irish poetry, he has published on Beckett and Shakespeare, and contemporary British poetry, and translated from Italian poets, including Eugenio Montale and Andrea Zanzotto. His study of Thomas Kinsella, The Sea of Disappointment, was published in 2008, and he edited Thomas Kinsella: Prose Occasions 1951-2006 (Carcanet, 2009). His poetry has appeared in journals and anthologies in Ireland, Britain, Italy, Japan, the United States, and Canada, including the Global Poetry Anthology 2013. He was runner-up for the Patrick Kavanagh Award in 2006 and was shortlisted for the Montreal Prize in 2013.
What the Sky Arranges: Poems made from the Tsurezuregusa of Kenkō
The Sunken Keep: A Version of Il Porto Sepolto by Giuseppe Ungaretti
Click here to see a video of Andrew Fitzsimons reading 'The Exile's Moon' and 'Worlds' from  What the Sky Arranges at the launch of the book in January 2014.