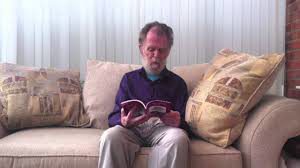 Denis Doyle was born in Exmouth, Devon, in 1938, four years after his parents had moved to England from Ireland. He studied English Literature at Exeter and Cambridge Univer-sities and then in the 1960s lived in Cornwall and also taught English for two years in Oviedo, Spain, where he started to translate the poems of Machado and Lorca; his translation of  Machado's The Legend of Alvargonzalez was published in England by North Light Press in 1982. He moved to Japan in 1987, quickly becoming an active figure in the circle of poets associated with the Tokyo magazine, Printed Matter; the first edition of The Rhododendron Forest was published in Tokyo by Printed Matter Press in 1991. He lived in Saitama until his retirement from Shukutoku University in 2011. He is married with two sons and now lives in Wales.
Click here to see a video of Denis Doyle in his living room in Llantwit Major, Wales, reading 'Early Call', 'The Road from Fir Hill', and 'Lines' from The Rhododendron Forest .
Click here to see a video of Denis Doyle's son, Francis Doyle, reading 'The Gorsefield', 'Dark Green', and 'The Goose Gospel' from The Rhododendron Forest at the launch of the book in Tokyo in January 2014.