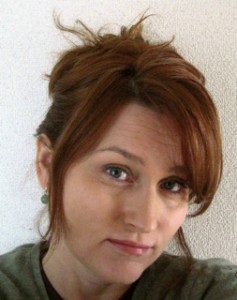 The first edition of The Insomiac's Weather Report was winner of the Three Candles Press First Book Award in 2011 (see the image below); Three Candles Press are no longer publishing books, and this Isobar edition brings the book back into print. Jessica Goodfellow is also the author of the chapbook A Pilgrim's Guide to Chaos in the Heartland (Concrete Wolf, 2006). Her poems have been featured in the anthology Best New Poets 2006 and on NPR's The Writer's Almanac. She was a recipient of the Chad Walsh Poetry Prize from the Beloit Poetry Journal, and has been honoured with  essay and short fiction awards from the Emrys Foundation. After receiving a master's degree from Caltech, she has worked as a financial analyst, a math teacher, an ESL teacher, and a scientific and medical editor. Raised in the greater Philadelphia area, she lives in Japan with her husband and sons.
Jessica Goodfellow's second book is Mendeleev's Mandala (Mayapple Press, 2015). In the summer of 2016 she was writer-in-residence at Denali National Park and Preserve in Alaska, where she finished work on Whiteout (now out from the University of Alaska Press), her book of poems about her uncle's death in a mountaineering accident on Denali.
The Insomniac's Weather Report
Click here to visit Jessica Goodfellow's home page.
Click here to visit Jessica Goodfellow's blog.
Click here to read an interview with Jessica Goodfellow by Kris Kosaka in The Japan Times.