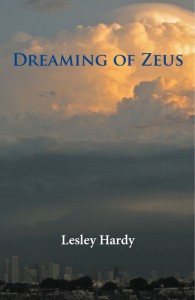 In Dreaming of Zeus the Greek hunter goddess Artemis eliminates a photographer from her realm; Hera, the goddess of women and motherhood, enjoys a moment of repose in a tea salon; Persephone acclimates herself to Hades; the medieval Majorcan hedonist-turned-missionary Ramon Lull reflects on his career; the composer Erik Satie grieves the loss of his great love; a princess in Japanese legend goes mad when her lover flees; and a slumberer is visited by Zeus in her dreams. In an unusual and distinctive voice, Lesley Hardy's elegantly imagined poems conjure up figures in myth and history, capture evocative moments in dream and contemporary life, and illuminate where these worlds overlap and haunt each other.
Lesley Hardy gives us poems of breathtaking drama and beauty. The possessor of a voice that in its freshness could only be of our own time, she has an uncanny ability to infuse with life characters from other worlds and other eras. Her poems are full of music, and, in a richly achieved convergence of the senses, of movement and colour. Across an extraordinary range of subjects, images and ideas are conveyed with graceful precision in lines now glimmering with wit, now shaded by an inescapable strangeness. Perhaps most affecting of all that these poems have to offer are moments of simplicity that go right to the heart of things, and leave us grateful to have encountered a new poet of such rare gifts. – Dianne Highbridge
Click here to read an excerpt from Dreaming of Zeus. Click here to buy Dreaming of Zeus from Amazon.com; click here to buy from Amazon.co.jp; click here to buy from Amazon.co.uk.
April 2015. Paperback. 60 pages. 8.5 x 5.5. ISBN 978-4-907359-09-6.