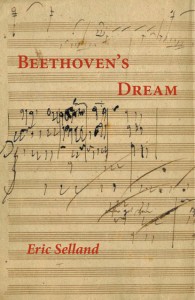 Beethoven's Dream completes the cycle of hybrid works by Eric Selland which includes The Condition of Music and Arc Tangent. As in these other works, Selland extracts fragments from a working notebook, juxtaposing appropriated text with his own extemporaneous writing to produce these meditations on daily life, memory, desire and loss. The book contains two long works, 'Sketches' and 'Beethoven's Dream', where Selland's interests in music, philosophy, and painting – and the love of Beethoven that he shared with his father – merge with the workaday world of Silicon Valley's high-tech factories; the tension between dissatisfaction with that world and the desire to inhabit more completely life as it actually has become is a major concern. Both works explore the intersecting points of past and present, dream and reality, internal and external – where identity emerges 'as a cluster of unstable boundaries' –  in language whose resonances and silences are equally haunted by the internal transformations of which they are the traces.
May 2015 Paperback. 78 pages. 8.5 x 5.5 inches (216 x 140mm). ISBN  978-4-907359-10-2.
Click here to order from Amazon. com; click here to order from Amazon.co.jp; click here to order from Amazon.co.uk.
Click here to read a downloadable sample of Beethoven's Dream.