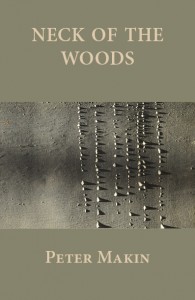 "Peter Makin's precision in describing natural settings and phenomena, from the coast of Lincolnshire to Kyoto, either with the breadth of distance or as if through a magnifying glass, is remarkable in itself; but in the selection, ordering and juxtaposition of subject matter Makin manages to combine the eye of the scientist, the compositional acumen of the Zen-inspired ink painters of the Sengoku era and the sensibility of a traditional Japanese poet of tanka and haiku. The singular force behind this collection of poems is loss and grief, the expressions of which drift in and out of the poems, as if emerging then receding behind the clouds, usually in the form of glimpsed memory. Neck of the Woods is an extended elegy, a most unique and beautiful one. The care Makin brings to his description of the natural feels, in its intensity, as if the memory of and abiding love for the person lost had somehow been transferred to the physical world around him, thus serving almost as a tribute or memorial. This is very moving poetry." (August Kleinzahler)
Neck of the Woods gathers all the poetry Peter Makin wishes to preserve from the period 2000–2015, including "Hagoromo" (first published in Shearsman magazine in 2005) and Ato (first published as a book by Pine Wave Press in 2002).
September 2015. Paperback. 102 pages. 8.5 x 5.5. ISBN 978-4-907359-12-6.
Robert Creeley on "Hagoromo": It manages so much so quietly…. I cannot think of a single thing in it I'd argue (if that's the word) needs change. Its scale, its pace, its articulate detailing, literally its feeling, are all to my mind very, very effective. It's a solid and beautiful piece of work, intimate and ageless.
Charles Tomlinson on Ato: I thought it a book of extraordinary fineness. You have learned much from Pound & Bunting and (I should guess) from Japanese and Chinese poetry…. Your lessons are all learned and you have one's ear from the first page.
Mary de Rachewiltz on Ato: The elegance! The sheer stark black on white elegance – that such precision could hold so much sorrow – a wonder. Dakruon dakruon.
Click here to buy from Amazon.co.jp; click here to buy from Amazon.co.uk; click here to buy from Amazon.com.