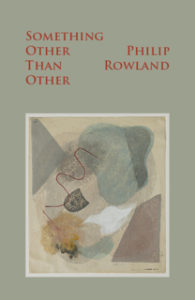 Something Other Than Other is the most representative collection by Philip Rowland to date. Ranging from minimal, concrete and found poems to epigrammatic reflections, imagist snapshots, haiku and tanka, the book unfolds in four carefully sequenced sections, including 'Surveillance', a long series of short poems based on observations of people and places in Rowland's adoptive home town of Tokyo. Throughout, this collection invites us to dwell on the multi-faceted relationships between its parts, continually opening space for the reader to listen for 'the sound of our listening'.
 Click here to read an excerpt from Something Other Than Other.
'You can't step in the same Rowland poem twice' – Joseph Massey
'[A] serious, quiet and often profound volume . . .' – Ian Brinton in Tears in the Fence. Click here to read the whole review.
'Most things are short here, but nothing brief. Never mono-layered, each page to be paused over and returned to, a linger rather than a slog. These 80 pages have a lot of white space and every bit of it is (no pun intended) justified. Time breaks into small sections to be allowed to melt rather than be chewed – "in the time it takes the temple bell"…. Simple words with a life behind them. Another poetry is possible. Something other than other.' – Alistair Noon. Click here to read the whole review.
''[Rowland's] insight captures life on the page, urging the reader to stop, consider and reconsider the moment, wherever it happens to be passing…. [he] has provided an honest and uplifting portrayal of the lives of people in the city in a small volume that packs a lot between its pages.' – Kris Kosaka in the Japan Times. Click here to read the whole review.
'He is not a poet who is afraid to see where his poems and language lead….A rewarding read!' – Modern Haiku
'Many [of these] are well-known poems that have already taken their place in the canon of contemporary English-language haiku … But in Something Other Than Other, haiku are not isolated in their own section of the book but printed in juxtaposition with many other types of poetry…. This juxtaposition allows the reader to see haiku not as a carefully fenced-off genre, constantly reminding you of the rules and history associated with them, but as part of the larger stream of poetry in general, sharing, in a larger sense, its history and goals.'  – Melissa Allen in frogpond. Click here to read the whole review.

Click here to read Billy Mills's review of Something Other Than Other (along with books by Rosemary Waldrop and James Davies) on his blog Elliptical Movements.
Click here to buy from Amazon in Japan; click here to buy from Amazon in the UK; click here to buy from Amazon in the US.
July 2016. Paperback. 96 pages. 8.5 x 5.5. ISBN 978-4-907359-14-0.