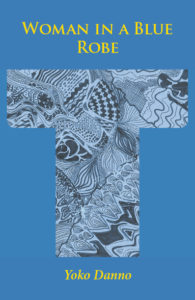 The poems in Woman in a Blue Robe consist of work written by Yoko Danno in the period 2002–2016. They range from short epigrammatic poems – sharply observed yet flavored with surrealism – to long pieces that mingle prose and poetry, dream and autobiography, fact and fiction, elegy and celebration, together with Buddhist insight and reference to Japanese historical figures and traditional culture. Among these longer pieces are evocative accounts of the great Kobe earthquake of 1995 and of the reconstruction of the author's house in its aftermath.
'Don't be disturbed by my apparition, noble Monk. I have no intention of distracting you from performing the ceremony. I've been going through a list of my own names I want to discard. I don't need a personal name any longer.… I no longer see flowers, nor smell incense, nor taste liquor, nor feel a caressing touch, but only hear the vibrations of light flowing over my transparent skin.… Tonight the full moon, multiplied in the flooded paddies before rice-planting, shines alone in the deep sky. I'm wearing only a blue kimono, which is enough for me to live in.'
(From the title poem)
September 2016. Paperback. 66 pages. 8.5 x 5.5. ISBN 978-4-907359-16-4.
Click here to read an excerpt from Woman in a Blue Robe.
Click here to buy from Amazon in Japan; click here to buy from Amazon in the US; click here to buy from Amazon in the UK.