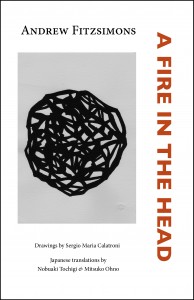 A Fire in the Head by Andrew Fitzsimons contains two complementary works, both of which emerged out of the aftermath of the March 2011 earthquake in Japan. The title poem-sequence takes the 5-7-5 form of the haiku to create an accumulating narrative of life adjusting to altered circumstance. The essay 'What Are Poets For?. . .' explores the efficacy of art when confronted with calamity, and from within the experience of the catastrophic events offers a response to the question: in a time of need, what use is a poem?
Included  with the English text is a translation of the title sequence into Japanese by Nobuaki Tochigi, a translation of 'What Are Poets For?…' into Japanese by Mitsuko Ohno, and drawings by the Tokyo-based artist and designer Sergio Maria Calatroni.
フィッツサイモンズ氏の三行詩は芭蕉のいう「ものの見えたる光」を確かに捉えている。 高橋睦郎  (In these three-line poems, Andrew Fitzsimons has captured what Basho called 'the revelatory light of things'.  Mutsuo Takahashi)
Among those who have taken on the challenge of writing about Japan's triple catastrophe, none has done so with greater intensity or economy than Andrew Fitzsimons. Gently, indirectly, in a sequence of bright flashes, his haiku sequence illuminates that unforgettable period when the vocabulary of radioactive contamination entered the language of everyday life and when Japanese could no longer trust the ground beneath their feet. His essay, 'What Are Poets For?…' makes spine-tingling literary connections with other moments of 'unrelievable, directionless despair', and celebrates, as Yeats did, the 'bright energy required for the necessary task of renewal'. (Richard Lloyd Parry)
Andrew Fitzsimons's A Fire in the Head is a marvelous, elegiac sequence, conceived in the aftermath of the Great East Japan Earthquake. With beautiful drawings by Sergio Maria Calatroni, it is an intimate, universal, poised and skillful confirmation of poetic craft and duty. (Gerard Fanning)
These haiku register with a rare compassion and clarity shifts that are seismic as well as intimate. Their economy belongs as much to perception as to form. (Jamie MacKendrick)
April 2014. Paperback. 78 pages. 8.5 x 5.5. ISBN 978-4-907359-06-5
Click here to download an excerpt from A Fire in the Head.
Click here to buy A Fire in the Head from the London Review Bookshop.
To buy A Fire in the Head from Amazon, click here for Amazon.co.jp, click here for Amazon.co.uk, or click here for Amazon.com.