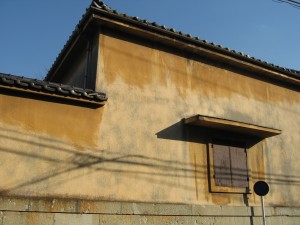 Isobar Press publishes poetry in English by Japanese and non-Japanese authors who live (or have lived) in Japan, or who write on Japan-related themes. In future, the press aims also to publish translations of modern and contemporary poetry from the Japanese.
In London, Isobar books are available from the London Review Bookshop, 13 Bury Place, London WC1A 2JL; tel: +44 (0)20 7267 9030.
In Tokyo, Isobar books are available from 紀伊國屋書店 (新宿南店) 6F / Kinokuniya Books (on the 6th floor of the Shinjuku South store) and Infinity Books (1-2-4 Azumabashi, near Asakusa).
They are also available from Amazon.co.jp, Amazon.co.uk, and Amazon.com.
JUST PUBLISHED: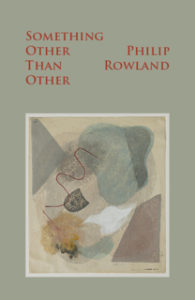 Something Other Than Other is the most representative collection by Philip Rowland to date. Ranging from minimal, concrete and found poems to epigrammatic reflections, imagist snapshots, haiku and tanka, the book unfolds in four carefully sequenced sections, including 'Surveillance', a long series of short poems based on observations of people and places in Rowland's adoptive home town of Tokyo. Throughout, this collection invites us to dwell on the multi-faceted relationships between its parts, continually opening space for the reader to listen for 'the sound of our listening'.
'You can't step in the same Rowland poem twice' – Joseph Massey
Click here to buy from Amazon in Japan.
Click here to buy from Amazon in the UK.
Click here to buy from Amazon in the US.
KYOTO JOURNAL FEATURES ISOBAR PRESS: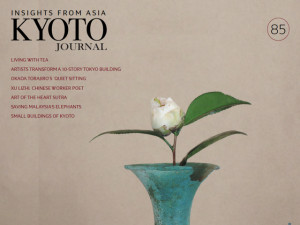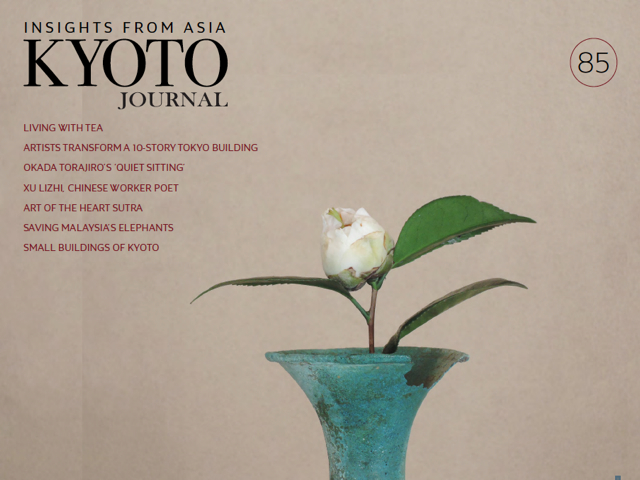 Kyoto Journal 85 is out, featuring sympathetic reviews of two Isobar books, Royall Tyler's A Great Valley Under the Stars, reviewed by Ken Rodgers (KJ's editor) and Peter Makin's Neck of the Woods, reviewed by Gregory Dunne (KJ 's poetry editor); there's also an interview with Paul Rossiter about the press, its history and its aims. A four-issue subscription to Kyoto Journal is $27.99, or a downloadable single issue costs ¥1000. It's great to have the press featured in such a beautiful and finely edited journal!
RECENTLY PUBLISHED: Click on title or author to read more.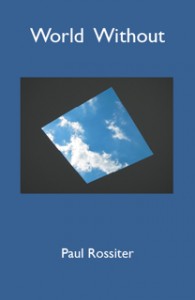 World Without, the fifth collection of poetry by Paul Rossiter, gathers writing from 2008–2015. The title section of the book celebrates music, ancestors, places and occasions in Japan, England, Greece and Italy; this is followed by 'Landscapes', a sequence of largely elegiac poems; 'Found in Transcription', poems created from pre-existing texts, ranging from seventeenth-century descriptions of Cornwall to Piet Mondrian's letters from London in 1938–1940; and 'Ars Longa', a series of short poems about poetry. The final section, 'White Foxglove', brings together a Chinese nature goddess, a response to the work of the film-maker Patrick Keiller, and the landscape of north Cornwall (the part of England where Paul Rossiter was born in 1947). The poems in the collection range widely in time and setting, but place and landscape, both as constructed by history and as experienced by someone moving through or inhabiting them, are constant concerns.
Click here to buy from Amazon.co.jp; click here to buy from Amazon.co.uk; click here to buy from Amazon.com.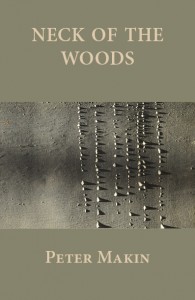 Neck of the Woods gathers all the sequences and poems from the period 2000–2015 that Peter Makin wishes to preserve, poems in which the waters, trees, bamboo groves, animals, birds and insects of the mountain valley north of Kyoto where he has lived for many years are registered with startling precision. But the book is also shot through with feelings of loss and grief, "the expressions of which drift  in and out of the poems, as if emerging then receding behind the clouds, usually in the form of glimpsed memory. Neck of the Woods is an extended elegy, a most unique and beautiful one. The care Makin brings to his description of the natural feels, in its intensity, as if the memory of and abiding love for the person lost had somehow been transferred to the physical world around him, thus serving almost as a tribute or memorial. This is very moving poetry" (August Kleinzahler).
Click here to buy from Amazon.co.jp; click here to buy from Amazon.co.uk; click here to buy from Amazon.com.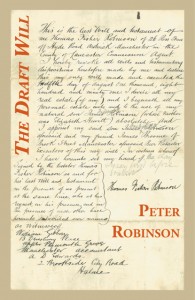 Much of it composed during Peter Robinson's eighteen years living in Japan, The Draft Will brings together a selection of his experiments with the prose poem and an extended sequence exploring a mystery in the poet's family background. To these has been added a gathering of memoirs written for various occasions over thirty years. Among these is 'Lost and Found', an account of the events surrounding the discovery he was suffering from a brain tumour, and how after its removal he was able to return to Sendai, working there for a further twelve years. Robinson's unusual attention to the timbre and cadence of English has singled him out as among the distinctive poets of his time; The Draft Will is an essential element in this evolving body of work. 'A major English poet' (Poetry Review).
Click here to read a sample of The Draft Will. Click here to order from Amazon.co.uk; click here to order from Amazon.co.jp; click here to order from Amazon.com.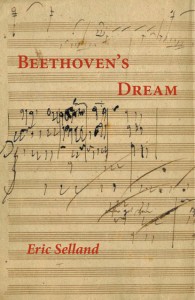 Beethoven's Dream completes the cycle of hybrid works by Eric Selland which includes The Condition of Music and Arc Tangent. As in these other works, Selland extracts fragments from a working notebook, juxtaposing appropriated text with his own extemporaneous writing to produce these meditations on daily life, memory, desire and loss. The book contains two long works, 'Sketches' and 'Beethoven's Dream', where Selland's interests in music, philosophy, and painting – and the love of Beethoven that he shared with his father – merge with the workaday world of Silicon Valley's high-tech factories; the tension between dissatisfaction with that world and the desire to inhabit more completely life as it actually has become is a major concern. Both works explore the intersecting points of past and present, dream and reality, internal and external – where identity emerges 'as a cluster of unstable boundaries' –  in language whose resonances and silences are equally haunted by the internal transformations of which they are the traces.
Click here to read a sample of Beethoven's Dream. Click here to order from Amazon. com; click here to order from Amazon.co.jp; click here to order from Amazon.co.uk.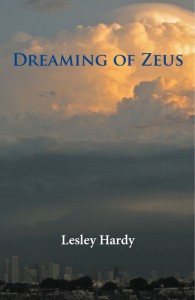 In Dreaming of Zeus the Greek hunter goddess Artemis eliminates a photographer from her realm; Hera, the goddess of women and motherhood, enjoys a moment of repose in a tea salon; Persephone acclimates herself to Hades; the medieval Majorcan hedonist-turned-missionary Ramon Lull reflects on his career; the composer Erik Satie grieves the loss of his great love; a princess in Japanese legend goes mad when her lover flees; and a slumberer is visited by Zeus in her dreams. In an unusual and distinctive voice, Lesley Hardy's elegantly imagined poems conjure up figures in myth and history, capture evocative moments in dream and contemporary life, and illuminate where these worlds overlap and haunt each other. "Lesley Hardy has an uncanny ability to infuse with life characters from other worlds and other eras. Across an extraordinary range of subjects, images and ideas are conveyed with graceful precision in lines now glimmering with wit, now shaded by an inescapable strangeness. Perhaps most affecting of all that these poems have to offer are moments of simplicity that go right to the heart of things, and leave us grateful to have encountered a new poet of such rare gifts." (Dianne Highbridge)
Click here to read a sample of Dreaming of Zeus. Click here to buy Dreaming of Zeus from Amazon.com; click here to buy from Amazon.co.jp; click here to buy from Amazon.co.uk.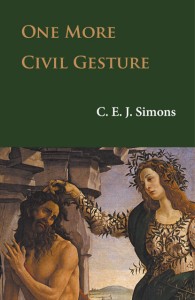 The poems in One More Civil Gesture, the first full collection by C. E. J. Simons, frequently take their subjects from singularities of nature and art – things that are wonderful not because they are unusual or rare, but because they deserve wonder, no matter how familiar: animal life; the seasons; family; myth; well-known Shakespeare plays. Simons wrote much of the book in Japan, where he has lived since 2006, and in the interstices of frequent travel in Asia, particularly to Burma, China, and Mongolia; the cultures and landscapes of these places, as well as of England and his native Canada, inform the work. "With something of Ted Hughes's unflinching power, allied to a troubled compassion, Chris Simons draws on a richly diverse range of subjects in poems that deal with the devastations and losses of the present, the past, and prehistory. Rhyme and violence are yoked together as 'Time picks history clean as a carcass', a cameraman earns a tough, affecting elegy, 'the anthropomorphic lie' confronts 'the truth in the hawk's eye', and the civil gesture of poetry encounters much that threatens its attempted composure. This is an impressive first volume." (Michael O'Neill)
Click here to read a sample of One More Civil Gesture. Click here to buy One More Civil Gesture from Amazon.co.uk; click here to buy from Amazon.com; or click here to buy from Amazon.co.jp.
PREVIOUSLY PUBLISHED: (click on the covers for more information and links to Amazon):