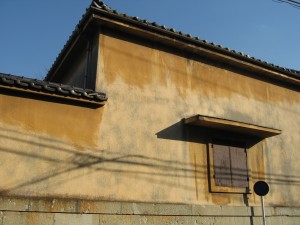 The aim of Isobar Press is to publish writing in English from Japan. The press will publish work by Japanese and non-Japanese authors who live (or have lived) in Japan, or who write on Japan-related topics. The focus, at least initially, will be on poetry, including both original writing and translations from the Japanese.
Isobar books are available from the London Review Bookshop, 13 Bury Place, London WC1A 2JL; tel: +44 (0)20 7267 9030.
They are also available from Amazon.co.jp, Amazon.co.uk, and Amazon.com.
Isobar Press is featured in the article 'Small Presses Fill a Niche in Books About Japan' by Kris Kosaka in the Japan Times, 25 May 2014.
JUST PUBLISHED: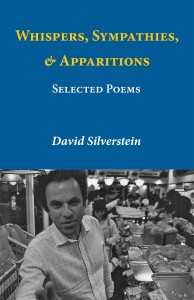 David Silverstein was a well-liked and well-respected figure on the Anglophone poetry scene in Tokyo from the late 1980s until his premature and entirely unexpected death in the spring of 1992. His special forte was the prose poem, which he used in a virtuosic way to provide the reader with – among other things –  portraits of  strangers on trains, glimpses into the private lives of bricks, mossy walls, bread crumbs and other inanimate objects, reflections on the relations between seer and seen, observations arising from walks in the streets of Tokyo, and explorations of fantasy and its limits. His writing is fast-moving, improvisatory, psychologically astute, often very funny, sometimes desolating in its awareness of the costs of solitude, but also capable of articulating moments of uncomplicated happiness. Whispers, Sympathies, & Apparitions, edited and with an afterword by Paul Rossiter, reprints a substantial selection of poems from Silverstein's three books.
Click here for more information on this title, or click here for more information on David Silverstein.
Click here to buy Whispers, Sympathies, & Apparitions from the London Review Bookshop.
To buy Whispers, Sympathies, & Apparitions from Amazon, click here for Amazon.co.jp, click here for Amazon.com, or click here for Amazon.co.uk.
RECENTLY PUBLISHED (click on the titles for more information and links to Amazon):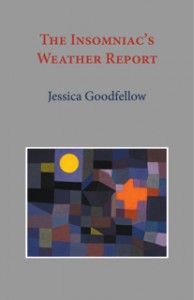 The first edition of The Insomniac's Weather Report by Jessica Goodfellow, originally published in 2011 as the winner of the Three Candles Press First Book Award, was only briefly available; this new Isobar edition brings this very striking collection back into print. Shifting between formal and prose poems, the myriad voices in this book include an insomniac struggling to delineate the edge between consciousness and sleep, and a couple trapped in a poem cycle that is itself an interlocking meditation on the oblique lines between self and other that constitute marriage.
To say that The Insomniac's Weather Report is exquisitely thrilling poetry doesn't begin to do it justice. Wicked and funny as an encyclopaedia of unanswerable koans, elegant as a fifteenth-century flowered silk kimono portraying, perhaps, 'a hinge on a hingeless door', it is also savage – containing a hidden history of 'marriage, / perpetual stagger of desire / and resist' – and I found it irresistible, as will you, dear reader. – Alicia Ostriker
Click here to read a review of The Insomniac's Weather Report by Amie Longmire in Wild Quarterly.
Click here to read a review of The Insomniac's Weather Report by Christina Veladota in her blog maybesopoetry.
Click here to read a review of The Insomniac's Weather Report by Taylor Breslin in The Small Press Book Review.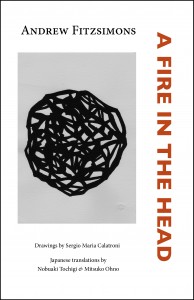 A Fire in the Head. The second book from Isobar by Andrew Fitzsimons contains two complementary works, both of which emerged out of the aftermath of the March 2011 earthquake in Japan. The title poem-sequence takes the 5-7-5 form of the haiku to create an accumulating narrative of life adjusting to altered circumstance. The essay ' What are Poets For?. . .' explores the efficacy of art when confronted with calamity, and from within the experience of the catastrophic events offers a response to the question: In a time of need, what use is a poem?
Included  with the English text is a translation of the title sequence into Japanese by Nobuaki Tochigi, a translation of 'What Are Poets For?…' by Mitsuko Ohno, and drawings by the Tokyo-based artist and designer Sergio Maria Calatroni.
A Great Valley Under the Stars: The first book of poetry by Royall Tyler, the award-winning translator of The Tale of Genji and The Tale of the Heike. Royall Tyler writes: 'Distilled from notes and pages written decades ago in the New Mexico desert and during Midwestern winters, this suite moves from listening for the voice of the worthless – trash, stones, men in the least of places – to a vision of a great valley under the stars, the spell of love, and the music of the sky. It is all one.'
This is a delightful and lovely book – at once spare and lyrical, whimsical and profound.  I have been grateful for Royall Tyler's splendid translations for years, but I am every bit as grateful now to have read him writing entirely in his own voice. (David Bentley Hart)
PREVIOUS PUBLICATIONS (click on the titles for more information and links to Amazon):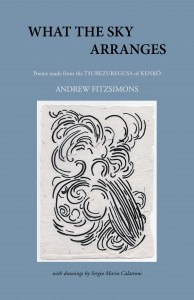 What the Sky Arranges: Poems made from the Tsurezuregusa of Kenkō by Andrew Fitzsimons: The Tsurezuregusa is a collection of wise, witty, compassionate and, occasionally, cranky ruminations on the business of living by the monk, Kenkō (c1283-c1350). The poems in What the Sky Arranges speak in a voice and tell of things derived from Kenkō: reading, travel, good and bad taste, exile, art, art bores, technophobia, scandal, sex, gardening, game theory, graveyards, friendship, death, the moon . . .
A truly wonderful sequence of poems, combining a lightness of touch with great depth and resonance, and one to be enjoyed in the words of the work itself 'under the lamp alone / a book spread out before you: bliss'. Absolute bliss, indeed. (David Peace)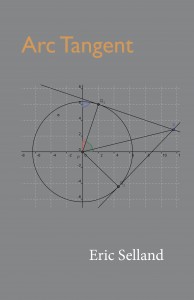 Arc Tangent by Eric Selland:  Two long sequences, 'Arc Tangent' and 'Table of Primaries', both of which are hybrid works made up of prose, poetry and fragments collaged from a working notebook, occasionally using appropriated text. Selland's work has deep roots  in the American Modernist tradition, while at the same time being profoundly influenced by his lifelong experience with the language and poetry of Japan.
Eric Selland's lyric work possesses a poise and nuance reminiscent of the French symbolist vision of Japonisme, wherein the slightest brushstroke or flute-breath causes the entire universe to veer. This is writing that moves along the verge of the unsayable, enacting a deep study of the mystery of everyday life. (Andrew Joron)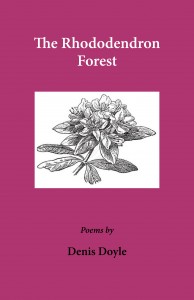 The Rhododendron Forest by Denis Doyle: When Denis Doyle arrived in Japan in 1987, he brought with him the manuscript of The Rhododendron Forest, consisting mostly of poems written in the previous few years in and about Cornwall – with excursions to Spain, an imagined St Petersburg, the scriptorium of a medieval monastery, and into memories of the romantic bafflements of a Catholic adolescence. The book was published in Tokyo by Printed Matter Press in 1991, but has long been out of print. Added to this new, revised edition of The Rhododendron Forest is Doyle's translation – first published by North Light Press in England in 1982 – of the first (prose) and third (poetic) versions of the narrative La Tierra de Alvargonzalez, a key work by Antonio Machado (1875–1939); Doyle's translation faithfully captures the exalted simplicity and tragic ballad-tale quality of Machado's poem, originally written in 1912 during a period of intense personal crisis.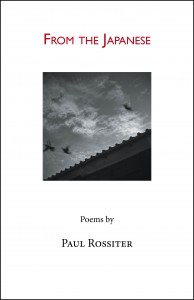 From the Japanese by Paul Rossiter: A collection of poems about Japan written between 1969 and 2013, ranging from reports from Tokyo at the time of the Vietnam War to an elegy for the city of Ishinomaki, severely damaged in the tsunami of 2011, by way of poems of place, incident and performance, and translations of Basho and of contemporary haiku master Natsuishi Ban'ya. The book also includes translations of two of Paul Rossiter's poems into Japanese by the well-known Japanese-language poets Arthur Binard and Kisaka Ryo, and  of five of his haiku by Natsuishi Ban'ya.