READING AT THE ITALIAN CULTURAL INSTITUTE
Full house at the Italian Cultural Institute for the launch of Andrew Fitzsimons's version of Ungaretti's First World War book, The Sunken Keep! Andy read and discussed Ungaretti's work with Masahiro Tsuji from Meiji University (photo below). I don't have a photo of Sergio Maria Calatroni, alas – sorry, Sergio! – but he read the Italian originals beautifully and spoke most movingly about his responses to the poems while creating his paintings. It was a powerful event! – and the Italian/Japanese/English trilingual jigsaw worked really well thanks to the two great simultaneous interpreters. Sergio's full set of 33 paintings (16 of which are reproduced in the book) will be on display on the ground floor of the Italian Cultural Institute until Thursday 8 February (closed on Saturday 3 and Sunday 4) – I really recommend it. Many, many thanks to the Institute for enabling this!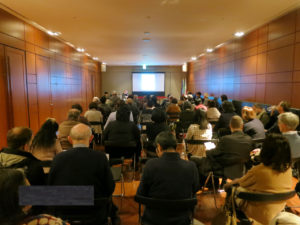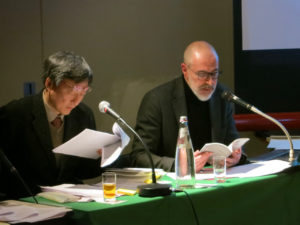 ISOBAR AT BAR IZNT IN KOBE
Thanks a lot to everybody, readers and audience, who came to Bar Iznt in Kobe on Sunday 4th June for the Isobar reading! Click here to see pictures of Peter Robinson launching Approach to Distance: Selected Poems from Japan, with Mayako Murai reading Miki Iwata's Japanese translations, and the other of Yoko Danno, Jessica Goodfellow and Osaka poet Trane DeVore reading from their series of linked quatrains.
ISOBAR AT BOOKS KINOKUNIYA TOKYO
Tohoku: Two Voices in English: A Bilingual Poetry Reading
東北 ふたつの英語の声  詩のバイリンガル朗読会

Thank you very much everybody who came to the Isobar reading at Books Kinokuniya Tokyo, and special thanks to all the readers: Peter Robinson , Saito Masaya, Miki Iwata, Holly Thompson and Philip Rowland. And to Mona Sumi at Kinokuniya for hosting the event so nicely! Click here to see  some pictures of Peter, Masaya, and Peter & Miki reading, and also of Paul, Holly & Philip reading part 3 ('three voices: countryside') of Masaya's Snow Bones.
PREVIOUS EVENTS